Once again, Grand Rapids Comic Con is another event I had never been to before! Originally it was slated for November 2020, but then Covid of course happened and then this event split into two – a Summer Bash (was first Spring Fling), and then the actual event in November.

Load-in
This convention had to be one of The!!! Smoothest!!! load-ins ever. Once I came into the parking lot there is a huge sign outside the door that says 'EXHIBITOR INFO' – telling me EXACTLY where to go. No guessing of doors or entrances or load-ins! They had several staff members at the table so you could ask any questions you wanted. All tables in artist alley were marked with table numbers AND artist names. Everything was VERY clear on where to go, I wish other cons had this level of transparency. Some don't even mark row numbers, come on!
But for all the pros, there is a con. Unlike many other conventions, this is not attached to a hotel and it was required to drive there from your dwelling and pay $10 parking per day, which isn't so bad given other places charge $20+ per day. That's a little annoying, but most of the hotels were within 10 minutes of driving distance, so it wasn't so bad.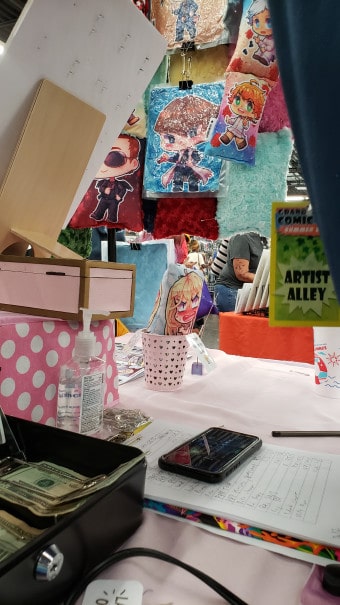 Communication
I had several questions and back and forths with emailing them and they always responded within a few days, so I would rate their communication as good. During the con they would also clearly announce close times or X minutes until close so everyone knew exactly when the day ended.
However, there was a misprint in either the pamphlet or the site where the hall was to close at 7, but actually closed at 8. That hour was the slowest hour of my life 😅 most of the attendees left already by 7 so they were probably going off of the misprint, other than that everything seemed in order.
Room Layout
The aisles had a decent amount of space between them so the congestion wasn't so bad. However, my biggest complaint is that it was ABSOLUTELY 🔥🔥🔥HOT AS HELL🔥🔥🔥 in the Artist Alley – the worst part is that if you just walked like 30 ft away into the dealer area it was noticeably cooler, and if you walked across to the other exhibit hall, they actually had AC in there and I wasn't sweating like a pig. They kept having the loading door next to Artist Alley open about 2-4 ft, when we asked the Information booth about it they said that they were trying to circulate the air since it was hot in Artist Alley but… it didn't help at all??? Since all the heat is rising they were just getting rid of cooler air at the bottom… Anyway, they did eventually try to put a fan there to blow hot air out but once again it didn't help and I spent the whole weekend just sweating in there.
As for table sizes, the artist tables were 6′ with a decent amount of space between and behind others (thank god). The exhibitors had 8′ tables with a whole booth dedicated to whatever layout they wished.
Other things of note
I was pretty wary because, since it was a comic con, a lot of the artists were dedicated to selling stuff like, Marvel and DC, I didn't know if a weeb like me could make it there. And I had also been burned before when I went to cons that weren't outside my sphere (anime cons only), so I went in with a bad feeling. But it turned out just fine and there were plenty of anime fans there!
Due to the table size issues I always have, I considered getting an exhibitor booth next time, but one thing I really liked about this con is that they feature artists from artist alley online (where you can write a bio for yourself and put some examples of your work), on their social media, and in their booklet. I've never seen a con put that much promotion into their artists so I thought it was really cool. So, even though exhibitors have a bigger space I think I would still like to be in artist alley because I got tangible results from the promotions.
The other thing I learned… buy a damn personal fan to clamp onto the table!!! That's what the person next to me had, and it was genius. It sure would've helped during the hellish heat that was that room…
Also, this is the first time I used a tableskirt that I bought in 2020. I didn't use my banner because I was afraid it'd cover it up (and I also hate my banner ANYWAY and want to get rid of it/make a new one), and I think it looks so great with my table of pastel rainbow puke! It really makes it stand out, don't you think?
EDIT 9/3/21: I received a postcard from them thanking me for attending the event. That's really thoughtful of them!!