This was the first time I've been to this event. I first came upon hearing Dokidokon when I attended a tiny Halloween con set up by them in 2019. The staff were kind and the area was not too far of a drive, so I decided to apply. I didn't know what to expect about this, but I had heard it was nice.

Load-in
I had a hotel from Thursday-Sun but was confused to see that there were no Thursday hours. Apparently I had missed an email that said Thursday setup was available upon request, so I spoke to the AA Liason, Alan, about it, and I came in an hour before it closed at 12am to do some setting up (the late hours were very much appreciated). The designated area for loading was the front of the Radisson Hotel. I was worried about it since the circle in front of the hotel is rather small, but since we were so late it didn't really matter. The hotel had dollies easily accessible right at the front, usually I either have to ask or never see any.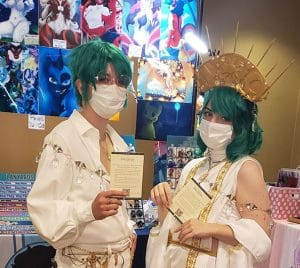 Communication
There has never been any other con that has responded to my inquiries so quickly and with actual information. I'm so used to either being ignored or being replied to like four months later. On Thursday when I emailed Alan he responded within 1-2 hours – I wasn't expecting it at all!
Just like their Halloween event before, the staff were all kind and helpful, and Alan is such a sweet person and very serious/thorough about con security which made me feel safe and relieved. There was a little jumble about picking tables and such last-minute, but because of Michigan lifting some Covid precautions, the staff had to throw out and redo pretty much everything that they had planned and start from scratch, so it was understandable.
Room Layout
The room was fairly small, and the aisles could be slightly hard to get through with large groups of people, but taking a walk through the room I think it would be hard to have missed any artists. The space between tables was fair and the amount of space behind us was also average (though I was next to a wall, so I didn't have to worry about bumping into people behind me). I was at a corner booth which had a trash can so that was a plus! The hotel had free water dispensers as well which was great. The room had five main aisles to go up and down from and two different exits/entrances so people weren't clogged in a single area. I was technically the farthest away from the bathrooms, but it was a short walk going outside of the AA room so it wasn't a big deal.
However, my biggest complaint is that the hall was downstairs, so the only ways to get up and down during load out was using three elevators. It got clogged fast during loud-out so my hatred of elevators grows…
Other things of note
The attendees were all lovely and excited to come back to cons since the height of the pandemic, I didn't have any rude customers. And I was surprised that my cherub charms sold out! People were really into it.
I made above average sales, so I bought a table for next year. They also handed out a flyer advertising a new convention they're making, Kokorocon, in St. Louis, so I'll be attending that too. I really liked this con and the people that run it so I want to support them! Overall it was a great experience and I'm happy to return again.